A few days ago,
Heather
made a post about flight attendant scarves. I made the comment that the Asian girls flying the skies seem to have a 'something' which makes them seem so much more stylish than their Western counterparts- who, admittedly, have their own kind of style.
Scarves, as well as hats, play a big part in the crew uniforms of the major Asian airlines. It's very unusual to find an Asian airline which does not. (with the exclusion of the southern asian airlines such as Phillipines, Garuda and so forth) The only example which comes to mind aside from Singair at the moment is Cathay Pacific, who had hats up until 1983 but not since. I can only guess this was an attempt to 'modernise' the look.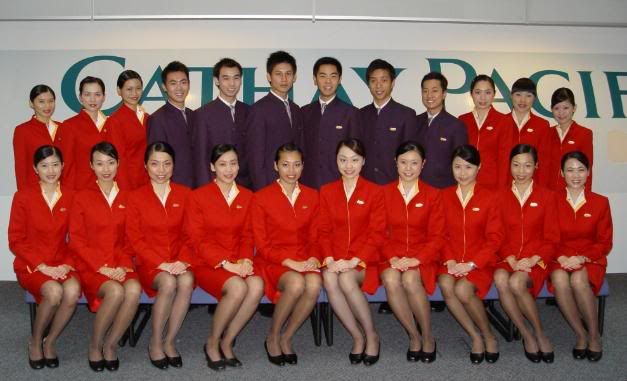 I think it's quite stylish and I've always liked the device of using colour to signify the rank of a particular crew member.
This one, of course, is probably the most-recognised crew uniform in the world, the iconic Singapore Girl!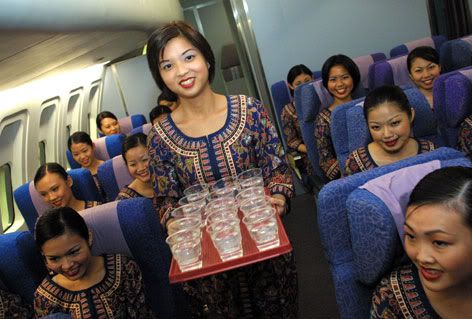 This uniform is so stylish and timeless, I don't think it will ever go out of style, despite
claims that it is sexist and outdated
.
Another cute outfit is this one from Korean Air, though hardly practical with all that white! (I hope they carry ScotchGuard with them!)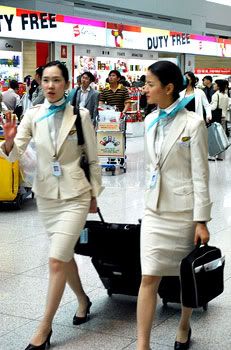 China Air attendants, obviously in a bit of a hurry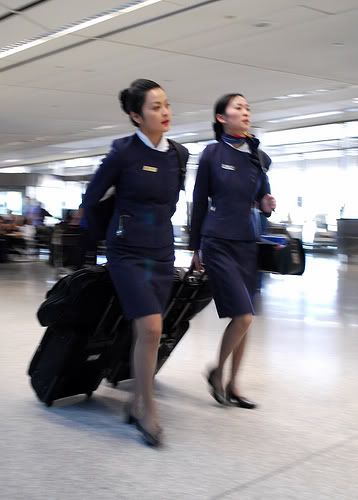 Reportedly, China Southern even holds a beauty pageant to find potential candidates to work as flight attendants for them.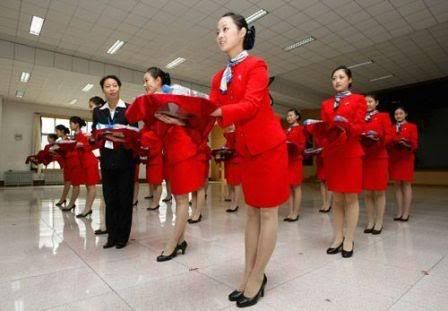 The job of a flight attendant has attained cult status in Japan. Unlike in other countries, the job is well-respected and parents would not be unhappy if their daughters (or increasingly, their sons) were to pursue such a career.
Classes are intense, with focus not only on safety, but also on appearance, attitude, manner of service and even the ways in which the girls move and tie their apron bows!
Japanese people are well known for their love of uniforms, which I think is so cute. Even bus conductors and train attendants have uniforms reminiscent of airline uniforms.
If you'd like to see more about the Japanese culture of the flight attendant, you can try to view this DVD from Fuji TV. It's a show called 'Attention, Please' (Atenshon puriizu, in Japanese). It follows a wannabe, then novice 'cabin attendantu' through her journey from selection process and interview, to training and eventually flight. Two specials aired taking the heroine to Hawaii and then Sydney, Australia!
It's a very fascinating insight into how an 'ordinary' job in the Western world is perceived elsewhere.
From
IMDB.com
:
One of the most endearing scenes in the pilot episode though, is when the aspirants finally pass their initial phase training and are awarded their official JAL cabin crew uniforms -- replete with name tags, JAL-emblazoned silk scarves, and shrink wrapped in protective cellophane to boot -- thus allowing them to continue the rest of the cabin-crew flight training.

It's witnessing scenes like this when one realizes how much being a part of a recognized group means to the Japanese, and how negotiating such compulsions are oftentimes an "all-or-nothihg" affair for many in Japanese society.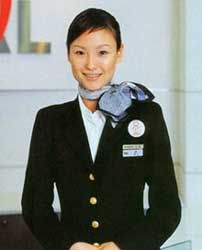 You can watch the first part of the show below (with subtitles)