Well, I had so much planned to post on my original blog, but it seems that JournalSpace has bitten the dust- possibly for good. I found out too late that the archive backup feature doesn't save the favourites-only posts. Crap. Oh well at least I have my original blogs back from 2005 when I first started blogging. Better than nothing I guess!
So I recently went to Brisvegas (or Brisbane for you non-Aussies) which isn't unusual, but for once it wasn't a late night arrival with a minimum layover then out on some horrendous red-eye flight to god knows where. We actually got decent layover time. Which of course is bad for the credit card as my older readers will know I love to shop in Brissie!
We had a bit of action early on in the trip as one of the crew was hurt in turbulence, we then had to get a replacement (sound familiar
SHB
???) :p Not much else happened on the flight which as it turns out was bad as we were all walking around trying to stay awake. *yawn*
I had full intentions of getting a good night's sleep then heading out for a walk in the park before getting something to eat and maybe just a LITTLE bit of shopping. Of course I ended up oversleeping and went straight to Queen St Mall for something to eat. Good old Subway, means I don't feel too guilty about what I ate for lunch. (Italian BMT with extra olives if you must know)
Bought an awesome pair of shoes, whih unfortunately didn't come in my size, but were exactly my sister's size, so those are her early birthday present (hers is in January)
Wandered around playing with all of the new makeup testers in Myer, spritzed on some new perfumes to try and just generally looked around. Really needed new jeans and managed to find a half-decent pair. I really want a pair of jean-style pants butin black (not that black denim but totally black, you know they're cut like jeans but black stretch not denim) but could I find some that WEREN'T skinny-leg jeans??? Noooooo. What is with this obssession with skinny leg jeans? They look good on hardly anyone except size 2 models. The salesgirl kept trying to convince me to buy them and I said to her eventually, helloooooooo, have you LOOKED at my figure? I'm all hips and ass with thin legs, if I wear those I will look like a beer keg!!!
Managed also to score two pairs of cropped jeans on sale (capri I suppose they are called) to replace my old faithfuls which are sadly looking less than stellar.
After stopping back by Myer to take advtange of their 40% off perfume, I got my standard Gloria Jean's iced choc and wandered slowly back towards the hotel. Took a few happy snaps on the way.
Christmas tree made of suspended giant Ferrero Rocher chocolates... sadly the photo from the top of the tree didn't turn out...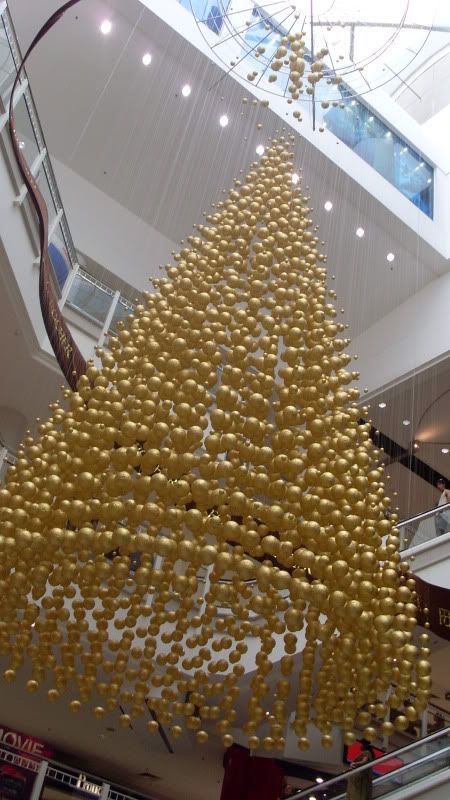 Tree in front of casino and the library square... and check out the outfit of the girl walking past lol... it was really hot that day, what's with the socks?!
Close up of the reindeer...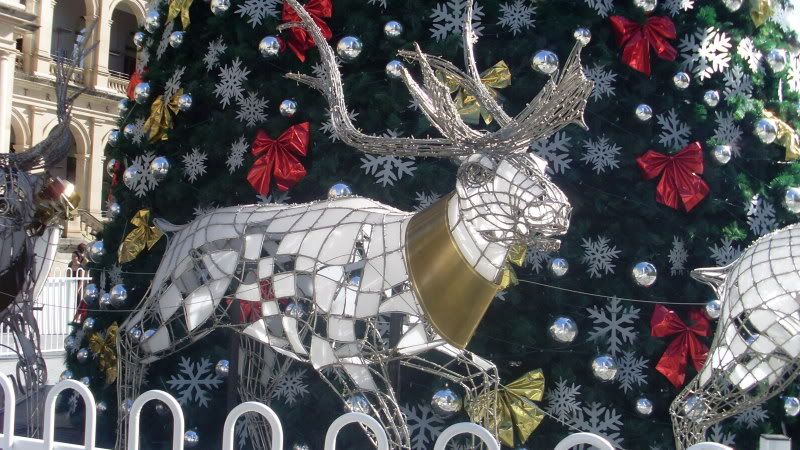 Casino building with those funky metal balls. I really need to go at night when they're lit up... how cool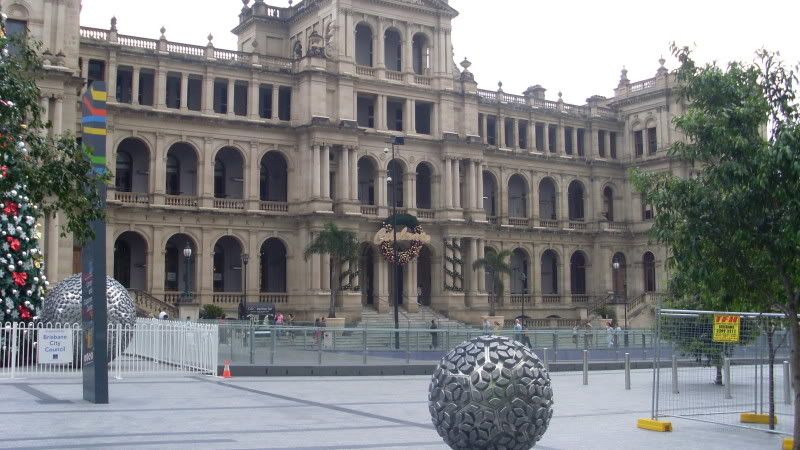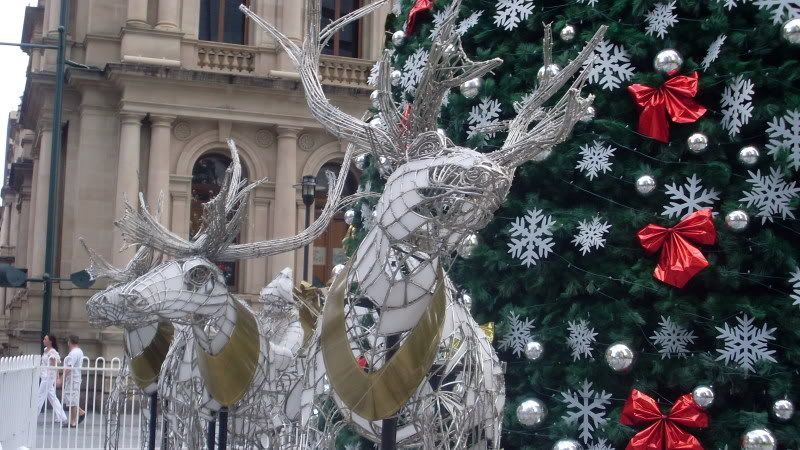 Festive windows in the Myer shopfront which had moving Santa puppets.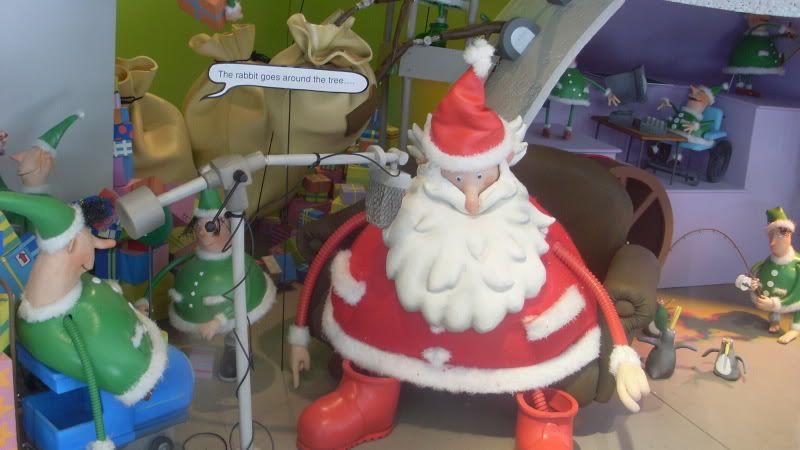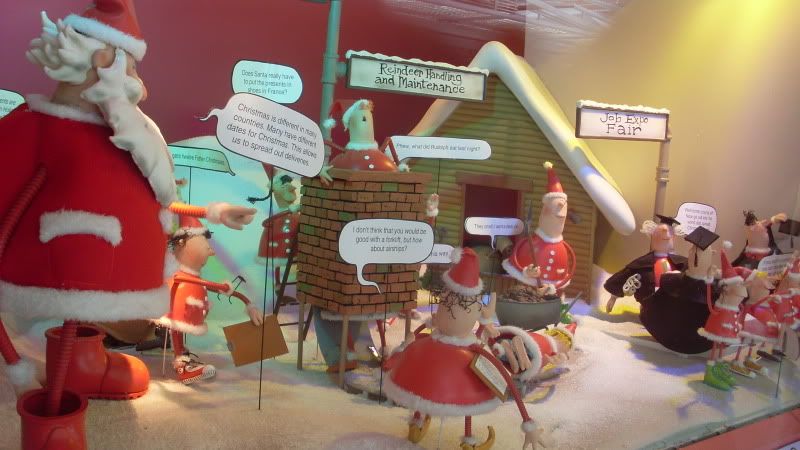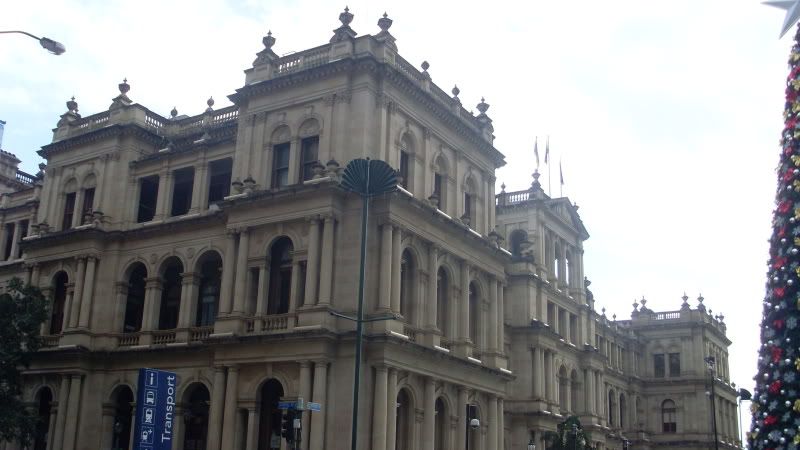 Storm brewing...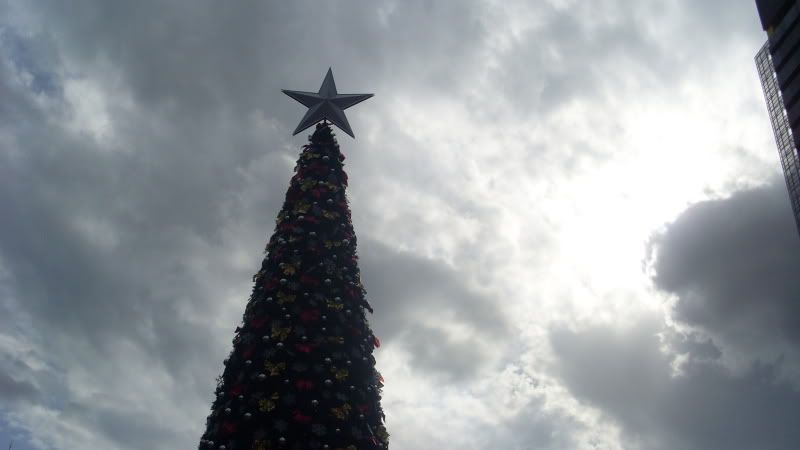 I love these metal globe things, they're awesome!