So, where was I? Oh yes, after avoiding the tourists at the giant Christmas Tree in the QVB building...
I met up with
SHB
and recognised him immediately! (He had that slightly tired thank-god-I've-finshed-work-for-the-day look that we FAs frequently have on our faces, hee) and told me that he definitely needed a coffee after the day's events. Being my usual smartarse self, I suggested that perhaps instead of coffee he needed a big fat drink, lol... but I was kidding of course! Perfect timing though as without the intervention of our newest FA blogger, I would probably have bought up half of the mall which would not be good for my holiday fund! :S
We found a coffee spot in QVB which looked alright so settled ourselves at a table.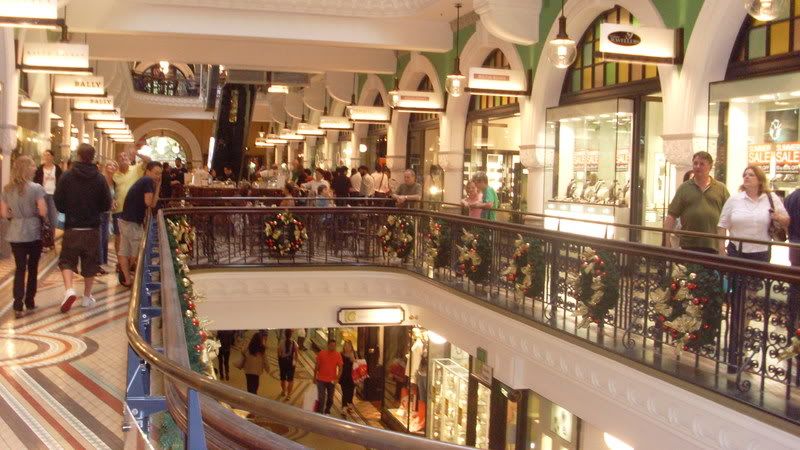 It's always fun meeting new people, especially bloggers and of course as FAs we bonded immediately over one of the favourite discussion subjects: annoying passengers!!! :D
The other thing FAs love to do is
bitch about
compare rosters/pay/aircraft/colleagues/uniforms and all that fun stuff. I must admit I wasn't my usual wide-awake self, even having had 5 hours sleep after arriving at the hotel. Soon the cafe staff started putting up the chairs which we took to be the ground equivalent of us flicking off the cabin lights and walking up the aisle behind the last straggling passengers with our cabin bags: we took the hint and left (hehe)
After a brief confusion of where we were actually headed, and wandering semi-aimlessly around we decided that still more coffee & chat was in order. If it had been nicer outside Hyde Park would have been a cool option but it looked like it was about to pee down rain so instead found good old Gloria Jean's (after a diversion via the ATM- my blance is looking decidedly sad until payday tomorrow, thank god)
The cafe was a weird hybrid of GJ's and an internet cafe/game geek hangout... we ordered and then commandeered a couple of sofa chairs upstairs. And proceeded to probably annoy the heck out of the gamers by our loud laughing at all the funny goings on we had been itching to relate!!!
All in all it was a v fun few hours, and I really cannot believe that SHB has only been flying for 4 months, he has that mix of professional yet slightly cynical that only we flight attendants have! He plainly loves what he does and it comes through (even when
bitching about
discussing those annoying crazy passengers!!) It was nice to spend time with you SHB, hope we can do it again sometime, and I'm trying to line up
GirlOnTour
when she gets here next.
So, Number #5- SkyHighBoy is added to the 'Bloggers I've Met' list. May there be many more! =)
(Ok so it's not us but it was the closest I could find)