Well we're 1 day in to the New Year and I'm excited!!!
I'm looking forward to putting a few things behind me (namely, moving on from past relationships and focusing on new ones), pursuing new opportunities at work and the economy permitting, I also hope to travel! I've put off booking my trip a little longer to see what happens at my airline, the next few months will tell if I'l lstill have a job and then I can go from there.
Seeing as it's the 'done thing' (and I wanted to do it anyway) here are my 'points to work on' for this year. I'm trying to be realistic here, so instead of 'Dont do x', I'll say 'Do more of Y' =)
* Try to make healthier choices in food, but still indulge evry so often :p

* Do something social at least once every week (not stay in so much)

* Work on getting to know myself more, what I want out of life & to do in the future

* Start putting money into my super/pension at least once a month

* Go on a 'big' holiday, preferably to Europe but at least to one of my 'must-see' places

* Start to learn a language (maybe French as flatmate wants to as well, which would help)

* Try to start dating (properly) again- just to meet new people and see what happens

* Research into starting a small online business- what, how and if it would work


Well, I just realised what a big list that is! Whew, at least it will keep me busy and out of mischief!

My first pic for 2009 is this cool light installation on a building, isn't it fabulous?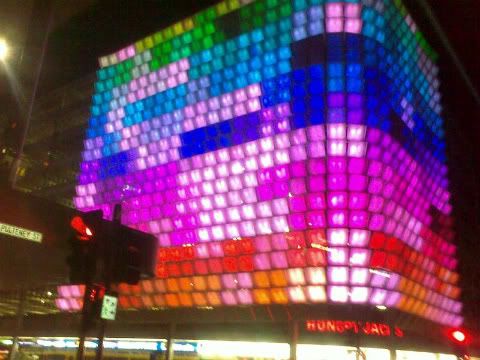 Soon, I will be taking off again, my first full trip for this new year. As we head into a fresh dawning year, I hope 2009 brings all that you hope for!